Slate mine Nuttlar in the Sauerland Region directly on the banks of the Ruhr.
In 1878 the miners began driving the first tunnel there. Up to 200 workers were temporarily engaged in the extraction and processing of roofing slate and slate. In the more than 100 years of operation of this mine, a truly unique and gigantic labyrinth of mines was created with kilometre-long corridors and huge halls on five levels and an extension of approx. 20 kilometres. Inclined galleries, called brake mountains, connect the different levels and conveyor sections with each other.
After the mine was shut down in 1985, the electricity was switched off and with it the pumps that pumped the constantly penetrating water into the Ruhr. It then took more than seven years for the water level to reach its present level. Of the total of five levels or bottoms, the lower two are completely flooded over a length of approx. 12 km: on the medium haulage section a maximum diving depth of 14 metres is reached and on the lower haulage section a depth of up to 30 metres is reached.
There you dive through long corridors lined with artfully stacked mountain walls and cross quarries so large that they look like cathedrals. Under water, the diver finds everything as it was once abandoned by the miners. This pit is huge compared to other mines and the diver can explore with each dive anew. One of the routes leads you through narrow, partly very high corridors, big halls and past some wagons on its track. An "attraction" is certainly also the compressed air powered overhead loader as well as an old pause booth in which the miners' jackets are still hanging on the wall. We don't want to tell so much here…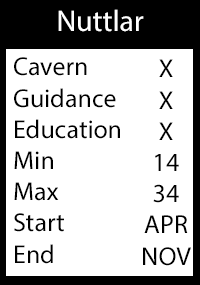 Information and booking at bergwerktauchen.de
Education
Nuttlar is perfect for training as it has a cavern area and a shallow depth. The following instructors teach at Nuttlar:
Jochen Grau
s.u.b. Cave Instructor Trainer / Examiner
ISE Instructor Trainer / Examiner
ANDI Cave Explorer Instructor
ANDI CCR Cave Explorer Instructor
Michael Melcher
PATD Instructor Trainer
Nils Gilles
s.u.b. Mine Diver Instructor
Michael Keimes
Thomas Pesch
IANTD Mine Diver Instructor
Candy Small
IANTD Mine Diver Instructor
Hotels next to Nuttlar
Hotel Schettel, Olsberg
Gasthof Sauerwald