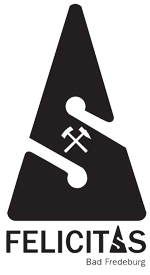 The Felicitas slate mine is located 2 kilometers northwest from "Bad Fredeburg" (part of the city "Schmallenberg"). The surrounding region is known for hiking (Rothaar Mountains), but there are also several reservoirs suitable for open water diving close by.
In 1863 the mine site was opened and owned by "Firma Hesse & Schneider KG" until 1990 when the current owner "Firma Magog GmbH & Co. KG" acquired the place and took over the mining. While the company still has mining business running in the area nearby, operations at the Felicitas mine got closed and water pumps were shut-off in the early 2000's leading to the flooding of tunnels with 9° C cold ground water.

The first exploration dives in the mine were conducted in January 2017 and the dive site opened publicly in July 2018 operated by "Bergwerktauchen Felicitas UG".
Starting your dive, you descend a 130-meter-long shaft along the gold line that leads to the first level at ~30 meters diving depth where the largest part of the mine spreads out. At the bottom of this shaft after a total dive time of ~7 minutes you will reach the first T from where you can start exploring the mine. If you turn left, you will enter the more "modern" part where mining was done by sawing with big machines and Diesel-Vehicles for transportation while on the right you will enter the section of the mine where the mining was conducted with explosives and where tunnels are smaller / more cave like.
While the most part of the mine is on the 24 to 30 meter level you can also jump into a smaller, ~150 meter long deeper section with a diving depth of 45-48 meters. This section was created when the mining company wanted to exploit a further slate vein, but as the quality of the material was not sufficient it stopped the activity after some test excavations. In total the mine has now more than 2.000 meters permanent line laid and you can explore either the main tunnels with simple navigation along the gold line or conduct several jumps, circuits and own exploration with your reel in the side passages & big halls.
Miscellaneous
Mine map: https://www.bergwerktauchen-felicitas.de/karten.html
Prerequisites: cave or mine diving certification, diving insurance, medical statement for diving fitness
Guidance: Yes (upon consultation for technical divers without cave / mine specific training)
Season: all-season (Saturday & Sunday, other weekdays upon consultation)
Contact & Booking
Website: https://www.bergwerktauchen-felicitas.de/
Email: info@bergwerktauchen-felicitas.de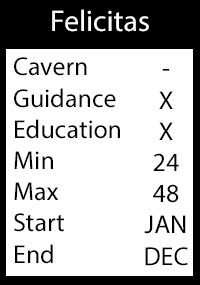 Education
Because of the depth (first floor starting at 24-35m, depending on water Level) it's only reliable to do the last one or two dives from a mine diver class at Felicitas. But for an advanced class you'll have perfect conditions
Nils Gilles
s.u.b. Mine Diver Instructor
Jochen Grau
s.u.b. Cave Instructor Trainer / Examiner
ISE Instructor Trainer / Examiner
ANDI Cave Explorer Instructor
ANDI CCR Cave Explorer Instructor
Frank Verhamme
s.u.b. Cave 1 Instructor
Jeroen Bijmans
TDI Mine Dive Instructor level 1 and 2
TDI CCR Mine Diver Instructor

Hotels next to Felicitas
Hotel Kleins Wiese ***
Hotel Hochland